"What In The World Are You Doing Here?!!"



I sure didn't expect you to pass up on that cool offer earlier!
"But Arun,... er... why did you create this page then?"
Good question.
Ok ok... I admit... I expected it.
I know where you're coming from.
Most of the times people don't get the upgrade because they're on a tighter budget. I know. I've been there.

It truly sucks because you know the product is good but $27 just seems like too much. This is especially true when you're starting out.
I get it... and I totally understand.
That's why I've removed the bonuses and video components to create a slightly smaller and more affordable package. So, you can still get a ton of content and be happy!
I've given you $10 off on this package!
I'll just let Nic emphasize this point for you...
"But Arun,... technically it's not $10 off! You've reduced the size of the package!"
Same difference... ahem... yeah.
Check out the package below. You know it's perfect for you... So, do get it.
You're getting a ton of value. It's really a no-brainer!
I'm Giving You 8 More Powerful Tools!
Component 1: 50 High-Quality Fitness & Self-Help PLR Articles
50 High-Quality Fitness & Success Related PLR Articles
What Is EPOC an Why It's A Marketer's Best Friend When It Comes To Weight Loss - (526 Words)
Discover How Being Fit Help With Your Online Marketing - (602 words)
Boost Your Metabolism and You'll Speed Up Your Weight Loss - (606 words)
4 Tips To Boosting Your Testosterone Level - (584 words)
The 3 Fundamentals To Get Six Pack Abs - (570 words)
Starving Yourself Works Against You!- (535 words)
A Bad Habit That Adds Weight To A Marketer's Belly - (541 words)
Every Online Marketer Needs A Food Journal - (529 words)
Do You Really Need A Gym Membership? - (591 words)
Change Up Your Training Regimen and Smash Plateaus - (521 words)
Can You Train While You Work? - (621 words)
Get It Over and Done With! - (548 words)
The Secret To Loving Exercise That Most People Don't Know About - (524 words)
Work Your Legs and You Work Off Your Fat - (549 words)
Track Your Progress Like A Maniac - (541 words)
Unleash the Power of IF - (544 words)
Enthusiasm Is Infectious - (599 words)
7 Secrets Of Abundance - (777 words)
How To Deal With The Inner Critic - (559 words)
Make The Difficult Look Easy and The Easy Look Beautiful - (551 words)
If You Will Change, Everything Will Change For You - (546 words)
Imagination Will Take You Above The Masses - (577 words)
Silence Is An Ocean. Speech Is A River. - (549 words)
How To Be A Pleasing Personality - (541 words)
Fortune Favors The Bold - (531 words)
5 Reasons Why Kaizen Will Help you Succeed – (596 words)
Discover How to Use Kaizen To Live an Abundant Life – (636 words)
How To Use Kaizen to Skyrocket Your Business – (524 words)
Losing Weight with Kaizen – (639 words)
Using Kaizen to Strengthen Your Relationship with Your Family – (555 words)
7 Workout Tips for Men Above 40 – (877 words)
The Best Exercises for Men in Their Forties and Above – (751 words)
4 Weight Loss Tips for Middle-aged Men – (637 words)
Muscle Building Tips for Men Above 40 – (610 words)
Why Do Men Above 40 Struggle to Lose Weight? – (586 words)
If You're a Male Above 40, You NEED To Read This – (564 words)
Supplements for Men Above 40 – (811 words)
How Does the Law of Attraction Work - (600 words)
How Long Does It Take for The Law of Attraction to Work - (610 words)
3 Reasons the Law of Attraction Doesn't Work for Some People - (625 words)
5 Tips To Manifesting Money With the LOA - (775 words)
Dealing with Failure By Using the Law of Attraction - (542 words)
Discover Why Self-Reflection Is Necessary to Make the LOA Work - (607 words)
How Often Should I Visualize and Say Affirmations - (595 words)
Is Prayer a Good Alternative for the Law of Attraction - (593 words)
Using The Law of Attraction to Lose Weight - (615 words)
What Is a Vision Board and How Should I Use It - (582 words)
What is the Missing Ingredient in The Secret - (543 words)
Why Feeling It is More Important Than Saying It - (536 words)
You NEED This If You Want To Manifest Miracles - (570 words)

Component 2: 3 Opt-In Pages & Thank You Pages
(2 more opt-in pages not shown)
Component 3: Flaming Hot Lead Magnet #1
(26 pages - 2,530 words)
Yet another fantastic report, even if I say so myself.
This report will get marketers motivated enough to get up off the chair and exercise.
It's amazing how just a few simple exercises make a world of difference!
The exercises are designed to build stamina and strength... and will help marketers to clear their minds after hours of mind-numbing work on the computer.
They need this report. They really do.
Component 4: Flaming Hot Lead Magnet #2
(21 pages - 2,658 words)
Do I need to tell you again that this is another fantastic report? I do?
Oh ok... This is a fantastic report. No, really it is.
But all levity aside, this report is of paramount importance to building a business online. Most marketers quit because of the struggles that beset them on their online journey.
The strategies and tips in this report will help them develop mental strength and the resilience to keep moving forward even when all hope seems lost.
Sometimes, all a person needs is motivation and direction to keep persevering... and this report gives them both!
Component 5: Flaming Hot Lead Magnet #3
(21 pages - 2,201 words)
This is a another fantas-.... oh wait... you already knew that.
I don't even know why you're still reading. I'd have bought this package by now because of the two fantastic reports earlier... but since you're still here.... Let's talk about this report.
It's all about failure... and is probably the most important report in this package. You're probably thinking, "Oh great! He has gone from fantastic to important..."
No no... it's true. Learning to cope with failure is crucial to attaining success online. This report will show marketers that failure is not the opposite of success. It's a part of success.
Once this realization hits them, they'll develop the fire in their bellies to handle failure and keep going without quitting till they attain success. This report will put the fire in their hearts.
I don't call it Flaming Hot PLR for nothing.

Component 6: Flip Book
This is a very cool component. I took the Warrior Marketer eBook and converted it into a flip book.
Unlike reading a PDF where you keep scrolling down like a porn addict, with a flip book, you just click on the mouse and the page will flip on your screen.
It's like reading a real book on your computer and the flip book has a 'swooshing' sound effect that makes you feel like you're actually turning a page.
It's almost cooler than me... Almost.

Component 7: 3 Infographics
Nothing like a good infographic to get the point across... and I'm giving you three!
It's not easy to create one. You'll need to research and summarize the info.
You'll need to look for suitable graphics and layouts... and... you know what...
You got better things to do.
Just use these infographics on your site, blog, Facebook page, mother-in-law's kitchen... whatever... and call it a day. It's so easy!
Component 8: Graphics & PSDs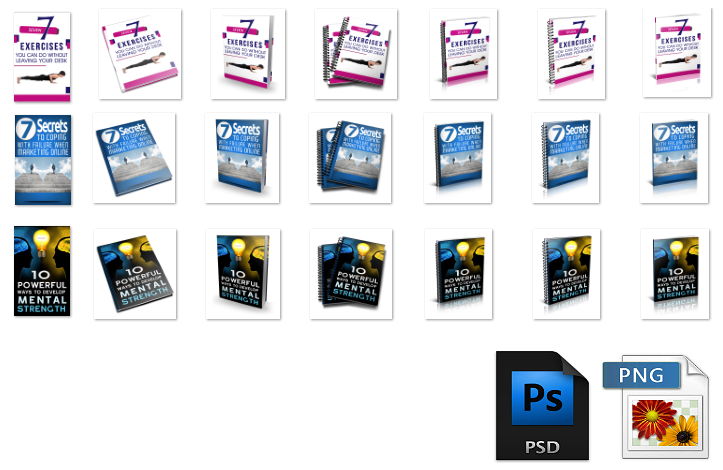 Your Name Is Written All Over IT!
By now, after seeing all the components you should have realized just how valuable this upgrade is.

If you truly want to have a ton of content at your disposal to dominate these sub-niches... this is it.
Your marketing and promotions will be more flexible with such high-quality and varied content.
Come on now!
You know you want it...
This package has your name written all over it.
This price is only available during the launch period.

Once the launch period is over, the price will jump to $37.

Personal Use Rights - You May NOT Sell or giveaway.
Component 1: 50 Warrior Marketer PLR Articles
Component 7: Infographics
Component 8: You can't give away the PSDs

Resell Rights & Master Resell Rights
Component 2: Opt-In & Thank You Pages
Component 3: Lead Magnet #1 (NOT the editable source files)
Component 4: Lead Magnet #2 (NOT the editable source files)
Component 5: Lead Magnet #3 (NOT the editable source files)
Component 6: Flip Book

[YES] Can resell this product.
[YES] Can add this product as a bonus to other products.
[YES] Can edit the sales letter.
[YES] Can giveaway the product as a bonus when someone buys through your affiliate link.
[YES] Can add this product to a PAID membership site.
[YES] Can be given to list subscribers.
[NO] You may NOT claim copyright to the content.
2 rules apply across the board for all components.
[No] You cannot give away or sell the package with the source files as your own PLR (e.g DOC & PSD files… because that's my job.)
[No] You may not use my name with the PLR.
The rights for the above package are simple but they vary for the different components.
This is by design and not because I'm a control freak. I want those who buy this package to have an edge.
You can't have an edge if everybody and their plumber owns this package.